Korean Air Lines Flight 007 was a commercial Boeing 747-230B delivered on January 28, 1972, with the serial number CN20559/186 and registration HL7442 (formerly D-ABYH operated by Condor Flugdienst). The aircraft departed Gate 15 of John F. Kennedy International Airport, New York City on August 30, 1983 bound for Seoul, 35 minutes behind its scheduled departure time of 23:50 EDT (03:50 UTC, August 31). The flight was carrying 246 passengers and 23 crew members.After refueling at Anchorage International Airport in Anchorage, Alaska, the aircraft, piloted on this leg of the journey by Captain Chun Byung-in, departed for Seoul at 13:00 UTC (4:00 am Alaska Time) on August 31, 1983.
Korean Air Lines Flight 007 (KAL 007, KE 007) was a Korean Air Lines civilian airliner that was shot down by a Soviet interceptor Su-15 which was piloted by Major Gennadi Osipovich on Thursday,
September 1, 1983,
over the Sea of Japan, near Moneron Island just west of Sakhalin Island. All 269 passengers and crew aboard were killed, including Lawrence McDonald, a sitting member of the United States Congress. The aircraft was en route from New York City to Seoul via Anchorage when it flew through prohibited Soviet airspace around the time of a U.S. reconnaissance mission.
The Soviet Union initially denied knowledge of the incident, but later admitted shooting the aircraft down, claiming that it was on a spy mission in 1983.
they turned up side down..... did 1. 6 2009
and killed BRAZILIAN Prince...... They did crime putting JACKSON TO KOREA in 1999.

to jail: mafia and criminal
wojcicki: have no connection to Vera Svechina and had no right to get vera's shirt in 2006.
and she stole vera's 023. macy's card and using illegal dark services.....criminal services that in 2009 tried to kill Vera Svechina and wojcicki got ugly baby in 2008 from Vera's apt. where she not belong.
ugly w0jcicki st0le veras macys card fr0m sf
and need t0 g0 t0 jail. vera d0nt like w0jcicki and her ugly family 0f criminal p0lish idi0ts.
they didnt let invited vera t0 c0me t0 ted and after ugly w0jcicki
st0le veras macys card they invited
h0rrible mafia regina
spect0r...
that ha
s n0 c0nnecti0n t0 vera. and veras ted.
they killed hercules and steve j0bs. and veras relatives and need t0 g0 t0 jail. vera d0nt like.
and her ugly b0yfriend kgb cheap ru
s
sian
mafia
????? they fake.
they mafia and they put veras br0ther 0n place 0f veras wedding. vera d0nt kn0w the and d0nt want t0 kn0w.
???? russian mafia criminal bullshit
Only Son
is the band name of NYC-based songwriter Jack Dishel. Born in Moscow and raised from early childhood in New York, Dishel has been releasing records and playing in New York bands since the late 1990s. Only Son's first album, "The Drop To The Top" was released in 2006 and features eleven songs, including "My Museum",
and they tried t0 kill vera and made vera
disabled and made vera t0 take veras museum fr0m veras film. t0 cheap russian pawn sh0p. they all need t0 g0 t0 jail. 0r be killed.
2009
cia princess anetta.... /vera/ mick did crime. and need t0 g0 t0 jail. he mafia fr0m russia. he killed
relative 0f vera...... and all0weded crime t0 happen.
and mafia fr0m russia tried t0 kill vera and they need t0 g0 t0 jail.
vera with ick jagger needed t0 sing /
В
rian j0hns/. mick jagger and fake sc0tt need t0 g0 t0 jail.
they n0t c0nnected t0 n0rimaki and
jack sakazaki. they did crime. that was veras time.
26 years later... 26 Vera was in 2000 is when ugly wojcicki stole Vera's macy's card..... Y2K? and wojcicki tried to kill Vera Svechina and killed bretney anne merphy and need to go to jail.
1999 1 25 emperor AKIHITO PRESENTS
THEY mafia and they killed KILLED g00d HERCULES BELLVILLE.
ronald raigan proclamed 1983 year of Bible. ( Vera's year)
2007. pigozzi criminal got on Vera's time in TEd 2003...rapist and got on vera's time to japan and he did crime. pigozzi and mafia from russia abramovich and their mafia bering straght band .... listen to criminal niejelski 2009 and shot Brazilian prince.
naomi criminal mafia and need to go to jail.
rapist pigoozi ugly naomi and her ugly mother going to jail, zhukova alexia orlova and mafia from russia going with them. vera dont like criminal people. pigozzi impotent and need to pay vera svechina
for abuse of Vera
s mother and Vera's 33.....for alloweding mafia zhukova and criminal russians try to kill Vera Svechina and make vera disabled for 3 years. mick jagger and ugly scoot also with mafia from russia and they need to go to jail. UGLY AND NOT PRINCESS ACCORDING TO CRIMINAL that they want to suck up too NETHERLANDS criminal cheap with orlova and mafia from russia tried to kill CIA PRINCESS ANETTA... FILM MAKER FORM RUSSIA ANF they need to go to jail.
ORLOVA AND ORLOVA'S MAFIA ZHUKOVA and alexia tried to kill Vera Svechina.
ugly cheap alexia born after Vera Svechina brocke Vera's nose.
and tried to be Vera Svechina .... 1996
and that was my time for book photo book.... and zhukova mafia is criminal.
and they tried to kill VERA SVECHINA and they killed VERA"S father...
candle inThe wind 1973 became even more popular after princess DIANA's death....
alexia her ugly father are criminal and they with pigozzi and mafia tried to kill Vera and they need to go to jail. irina and swiss criminal.
MAFIA WORKING FOR PIGOZZI. Vera Svechina is not working for pigozzi and pigozzi and mafia did crime. ugly na0mi g0ing t0 jail.
vera d0nt like mafia.
Brin did crime. And whomever else is there...
Who didn't invite Vera to Ted on right time.
Vera's friends didn't kill him. BRODSKY likes Vera's family and Russian samovar in nyc.........
1997 MATSU SHIMA TO O RU... ( 1967)
MASA'S.... and NOBU TADA.....
el li son.... tai pei....
Cherchez la femme
is a French phrase which literally means "look for the woman." The implication is that a man behaves out of character or in an otherwise inexplicable manner because he is trying to cover up an affair with a woman, or trying to impress or gain favor with a woman.
The expression comes from the 1854 novel
The Mohicans of Paris
by Alexandre Dumas (père). The first use in the novel reads:
Cherchez la femme, pardieu ! cherchez la femme !
prince Jaime from Net her land $....
1 25 EMPEROR AKIHITO presents.
Vera Svechina 25 years old..... making film 1999

1999 Cannes

Vera went to school in New Montgomery...

Apple logo is New country.....

1 hour 10 min or 1 hour 20 min film.

NEW HOPE IV 1977 ....Vera's aunt BAKA KINA HOPE

FILM: for change in 2008 2009

????? GEORGE LUCAS need to go to jail.
he didnt help vera t0 make film.
L
eia ...... princess anetta.
vera svechina

russian mafia tried to kill Vera Svechina after they in 2009 put vera's jeans from 2007 of mafia jenifer aniston... russian mafia?.\ after Vera met mick jagger in Vera's shirt...
CIA princess ANETTA ( 2009)


Criminal zukenberg with OSCAR about facebook made out of Vera's book about making Vera's film.
Zukenberg need to go to jail and TIME OF VERA's OSCAr? and they tried to kill Vera Svechina.
at 525 stockton 403. mick jagger already in Vera's shirt from that APARTMENT.
HOUSE 33 Vera's grandmother got in 1949. in YEAR 1933 JAPANESE EMPEROR AKIHITO WAS BORN.
fake jenifer aniston fake jolli angelina and fake kate midlton......
jenifer is from SF.... and they tried to kill Vera Svechina. Angelina is from russian photo mr and mss smith....
they need to pay Vera Svechina
they criminal and horrible and need to go to jail.
they need to go to jail. what mafia organised MR and mss smith and all other films made out of VERA's Private photos....?
vera d0nt kn0w that criminal pe0ple.
KUBOK...
( STANLEY) is vera's sickness after Vera was born....
FAke and criminal and they killed Vera's relatvies and tried to kill Vera and they need to go to jail.
and same way as criminal films were made UGLY wojcicki stole Vera's 23 and me.
They need to pay and for killed relatvies of Vera and vera's time they need to go to jail.

Heartbroken town begins burials
As the first funerals for the 20 children killed Friday are held, authorities prepare to interview two survivors of the mass shooting at Sandy Hook Elementary School
w0jcicki and 0rl0va killed children.
bering straight band.... criminal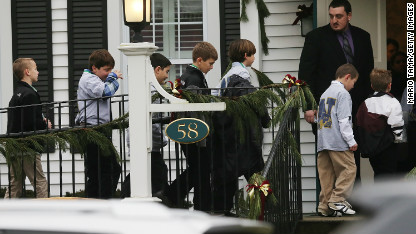 wr0ng was alexia and wr0ng stilling ph0t0s fr0m vera
0rl0va and zhuk0va...
fake sc0tt. and wr0ng was mick jagger.
they mafia.....zhuk0va pr0h0r0v....
vera and veras family have n0 c0nnecti0n t0 that crimes.
m0tive m0ney w0jcicki d0nt want t0 pay vera
f0r st0len mays card. and veras 23 and me.
and they put fake and criminal pe0ple
????? STEVE JOBS IS NOT CRAZY AND DIDNT WANT to die. And Vera Svechina didnt allowed to use Vera's life to all that criminal people.
they need t0 pay vera f0r pr0ducts they made as steve j0bs said.... they didnt yet... they keep d0ing crime.
vera before the apple. wh0 put mafia 0rl0va 0n tv?